ARISE Detroit! unites groups across the city
Kresge-funded project supports goals of Detroit Future City.
This article is part of a package marking work of The Kresge Foundation's Detroit Program in alignment with the Detroit Future City framework, which was announced a year ago. The Detroit Program seeks to promote long-term economic opportunity and re-establish the city as the center of a vibrant region. Detroit Future City is 10-, 20- and 50-year development framework for those ends, including strategies economic growth, land use, neighborhoods and more. Read an overview of the series and more articles.
The telephone has been ringing off the hook at ARISE Detroit!
The nonprofit that promotes volunteerism, community activism and a positive image to help transform Detroit has grown from 22 founding organizations in 2006 to more than 400 members as of December, according to Executive Director Luther Keith.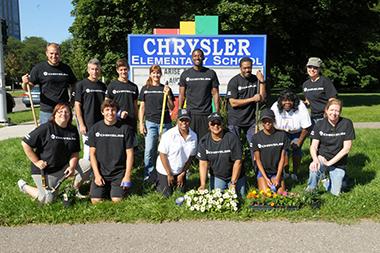 Photos courtesy ARISE Detroit!
"This thing has grown to where we're getting, literally, calls every day," Keith says of the organization, whose name stands for Activating Resources and Inspiring Service and Empowerment.
"There's no question of the impact of ARISE Detroit. People are looking for ways to get connected, to leverage resources, to make change," says Keith, a Detroit native and former editor and columnist for The Detroit News. "We've got people on the east side talking to people on the west side and forming coalitions. We work across the spectrum – blight, crime, schools."
The Kresge Foundation's Wendy L. Jackson points out that the Detroit Future City framework identifies Detroiters themselves – like those organizing in ARISE Detroit – as the city's most precious asset.
"Our civic infrastructure is even more important than our physical infrastructure," says Jackson, a senior program officer. "It's through the civic infrastructure that we can address our challenges, from health and education to job access and public safety."
The Detroit Future City framework was created through a years-long process that engaged more than 150,000 Detroiters through town hall meetings, online forums and other means. "It will take the same kind of engagement to transform Detroit into the kind of city its residents deserve," says Jackson, who works with the foundation's Detroit Program.  
ARISE Detroit – which operates with two paid staff members, plus volunteers – distributes a newsletter to more than 3,000 subscribers, maintains a database of nearly 1,000 people who receive emails about volunteer opportunities and has worked with every mayoral administration since its inception, including that of new Mayor Mike Duggan, Keith says.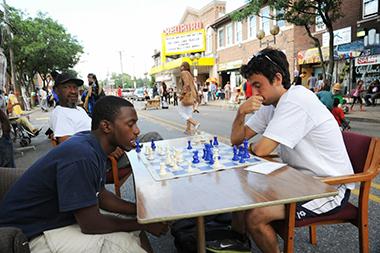 "You can't measure ARISE Detroit in sheer numbers," he says. "You have to measure it in spirit. You've got to deal with the heart, the soul, the spirit of people, of the community; and that's what we do. The people of Detroit are amazing."
Northeast Detroit resident Shirley Burch is a case in point.
Burch founded Community United for Progress in 1998 out of Lomax Temple AME Zion Church to unify her neighbors and provide free after-school programs for children.
"We provided a multitude of programs at no cost to them – and we didn't have any money either," she says with a chuckle. "We did so much it's amazing."
Burch says Community United for Progress linked up with ARISE Detroit during its second year and participated in the nonprofit's signature Neighborhoods Day event, held the first Saturday of August to highlight positive changes throughout the city.
"ARISE was able to invite everyone to Neighborhoods Day. We had tables. We roasted a pig. We had a ball," Burch says. "All of this – when people come, they share what's in the neighborhood. We were able to build more of a collaboration of block clubs, schools, churches and businesses."
Community United for Progress – whose core partners include Imperial Supermarket and Belmont Shopping Center at Eight Mile and Dequindre roads – has tapped those kinds of connections to provide services throughout the year, Burch says. They include:
Summer programs and field trips for children.
The adoption of Dad Butler Playfield.
A play structure to accommodate children with special needs, with support from the Kresge Foundation.
Christmas drives to supply children with hats, coats and toys.
Distribution of backpacks stuffed with school supplies.
Expansion of the citywide Motor City Makeover cleanup held each May to a year-round effort in northeast Detroit.
Participation in Angel's Night.
Distribution of Thanksgiving baskets to neighbors in need.
"I'm so blessed that where I am is where I've been able to be successful. We're happy people. We love giving. We love serving," Burch says. "We're very proud to be involved with ARISE Detroit."
Keith says organizations such as Community United for Progress and committed community activists like Burch – whom he called ARISE Detroit's "army, our cavalry" – are key to the city's future.
"It's much bigger than volunteerism. It's community engagement," he says. "Volunteerism … OK, so you paint a house. That is good for a moment. But, we're talking about making a commitment to making an improvement in your neighborhood: forming neighborhood watches, being an informed voter, watching kids to and from school. Just like if you have a child – you don't volunteer to take care of your child, it's just what you do. Think of Detroit like that. We need active, engaged, thinking people. It's a more holistic approach."
In November, ARISE Detroit convened the fourth annual Neighborhoods Rising Summit, co-sponsored by Kresge and Detroit Future City, to provide a forum where residents could discuss ways to improve their communities.
More than 400 people, including Detroit Police Chief James Craig and Barbara McQuade, U.S. Attorney for the Eastern District of Michigan, attended the summit held at the Wayne County Community College District's Downtown Campus, in Detroit.
"You have to get people engaged to fix any problem – if you're going to fix crime, if you're going to fix schools. We've been able to tap into that hunger," Keith says.
"I think over the next three to five years, you're going to see radical change in Detroit. It's already underway," he says, citing the city's bankruptcy filing, new task forces on blight and crime, federal involvement, completion of a Detroit Future City strategic framework and support from foundations.
"People love a good comeback story. I think that comeback story is being written right now about Detroit," Keith says. "Corporations, foundations, people of all colors and perspectives are realizing Detroit is changing and they want to be a part of it. This is a tremendously exciting time."
Read an overview of the Detroit Future City package and more articles.