The Management Center: Managing to Change the World Workshop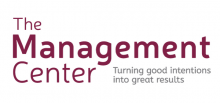 Organizational Overview
At The Management Center, we help social justice leaders learn how to build and run more effective organizations, so they can get better results. We want to see more social change in this country, and we know that producing it is hard. Disparities in money and power mean that social justice advocates need to work not just as effectively as their opponents, but more effectively. That's where we come in: We know what practices differentiate high-performing organizations, and we help organizations and leaders master those practices so they can deliver and sustain great results over time. For more information, visit www.managementcenter.org.
Service Description
This fast-paced course in the basics of effective management will teach you skills like delegation, using goals, hiring well, managing time and systems, and bringing an equity and inclusion lens so that everyone on your team can contribute and thrive. We'll share practical tools and frameworks based on the best practices we've seen differentiate high-performing organizations. The course will include time for discussion, practice, and real-life application to help ensure your team gets great results. TMC will offer this course in two different cities, Washington, D.C., and New York, New York, and up to 30 managers can participate in each session.
Eligibility Guidelines
Organizational Need: Seeking an opportunity for two or three leaders to develop the basics of effective management (e.g., delegation, goal setting, hiring, and using an equity and inclusion lens) and receive practical tools and frameworks.
Equity Commitment: Organizations have a commitment to diversity, equity and inclusion and are open to new ways of working to incorporate more equitable practices.
Values Commitment: As a manager, desire to become even better at managing a diverse team to achieve outstanding results.
Personnel Commitment:

One participant per organization, to balance representation from different organizations.
While not a requirement, we find our trainings have even more positive impact when senior leaders attend and can bring the tools and practices back to implement with their teams.

Time Commitment:

Travel time to training location
Two-day course

Financial Commitment: Costs associated with travel to attend in-person sessions (locations to be determined). Kresge does not want travel costs to exclude any organization from participating, and some travel scholarships will likely be available. Please indicate anticipated need in the SurveyMonkey application for services.
Additional Guidelines
Given our experience working with system change-focused organizations, our training will be especially helpful for participants from organizations doing organizing, advocacy, or policy change work.