Management Assistance Group, ProInspire and Crossroads
Organization Description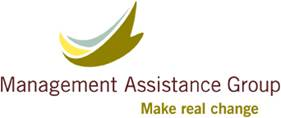 About MAG: Founded in 1980, MAG strengthens visionary social justice organizations, leaders and networks to create a more just world. MAG believes that today's social justice efforts need to be strengthened on not just the organizational level but also at the leadership and network levels across multiple sectors in order to build broad, long-term political power, scale up impact, and win on a wide range of progressive issues. MAG has worked in partnership with over 1,000 organizations, networks, and grantmakers to build clarity of purpose, strategies for change, and the structures, relationships, cultures, and mindsets needed to achieve goals. MAG also conducts research on issues faced by its clients, runs innovation labs to explore new ways of thinking and doing, and shares its insights and experiences with the field.
We incorporate equity, race and liberation into this work through the questions that we ask, our analysis of the data, conversations with clients about how to prioritize and navigate issues that emerge, and facilitation of groups to answer difficult questions and develop alignment. We recognize that to achieve justice we need to understand and address multiple systemic, structural, institutional and interpersonal causes of inequity (both historic and current). We also believe that these levels of work need to be integrated with work on the individual level to build awareness and skills and heal trauma. Finally, we bring compassion and partnership to our clients to support them on this journey over the long haul.
About ProInspire: ProInspire is a nonprofit that develops leaders at all levels for organizations addressing the world's greatest challenges. Rooted in the belief that leadership and equity are key to the systems change needed to maximize social impact, we design and deliver leadership development programs, fellowships, research, and convenings. Founded in 2009 and based in Washington, DC, ProInspire runs programs in seven cities across the United States. Over 1,000 individuals have participated in ProInspire's open enrollment and custom programs.
ProInspire's leadership development programs prepare managers and leaders with knowledge, tools, and peer support to increase their effectiveness in driving social impact. Curriculum for our programs was strategically developed based on research completed by ProInspire to assess critical competencies for nonprofit managers. The curriculum is focused on four key areas – Leading Self, Leading Others, Leading Careers, and Leading Organizations. It incorporates best practices from across industries and is continuously improved based on changing needs in the social sector. The results from ProInspire's comprehensive leadership development programs reveal that participants increase their confidence and effectiveness along multiple dimensions tied to the curriculum.
About Crossroads: Crossroads was founded in 1986 to find new directions in understanding root causes of U.S. racism and develop effective strategies for dismantling systemic racism in institutions. We provide a structural analysis to institutions that are coming to recognize patterns of oppression within their own systems, and are realizing the need for institutional change. Using a power analysis, Crossroads leads institutions in identifying organizational barriers that prevent just, accountable, authentic multicultural diversity. Our work is primarily developing institutional anti-racism teams that receive training and ongoing coaching and consultation designed to help them create and implement long-range, strategic antiracism planning for their institution.
Learning Community to Operationalize Equity
Together, MAG, ProInspire and Crossroads will provide an offering to 12 grantee organizations for each to send 4 participants (48 total people) to participate in a learning community between September 2019 - June 2020 (10 months). We propose that each participating organization send 2 board members and 2 senior staff members (likely ED/Board Chair and COO/HR Director/equity advocate) to form each organizational cohort.
Our learning community is designed to build shared literacy and understanding among both staff and board members. Together, they will:
Build relationships and a network among learning community peers and within their organizational cohorts
Explore their mindsets and beliefs around centering race equity and navigating power dynamics
Practice noticing the presence/absence of an equity lens and how to bring that lens to all scopes of work
Gain confidence to act and lead change given their authority in their role.
We will center the learning community on developing strategic clarity to operationalize race equity within organizations. This could manifest in the adoption of equitable organizational practices and policies (e.g. vendor selection, board by-laws, employee policies, recruitment, selection, retention, and promotion, to name a few). Through this process, participants will explore how to hold themselves and others accountable to their goals and set a roadmap for continuing this work within their organizations beyond this engagement.
The learning community will consist of the following activities:
Opening In-Person Gathering (2.5 to 3 days):

Crossroads will provide a 1-day Introduction to Systemic Racism (in institutions) workshop. This will provide a foundational understand of structural racism for all participants.
MAG and ProInspire will co-facilitate a 1.5 to 2-day launch to the learning community.

Virtual Learning (2-3 sessions):

MAG will provide 2-3 virtual sessions for board participants on specific topics & shared learning.
ProInspire will provide 2-3 virtual sessions for staff participants on topics & shared learning.

Ongoing Work:

Each participant and organizational cohort will make progress towards their identified goals for operationalizing equity in the policies and practices of the organization.

Coaching (2-3 sessions per organization):

Each organization will receive up to 3 1-hour coaching sessions between program components.

Closing In-Person Gathering (1.5 to 2 days):

MAG and ProInspire will co-facilitate a 1.5 to 2-day wrap-up for the learning community.
Grantee Readiness Markers
The organization has a publicly stated commitment to Diversity, Equity, and Inclusion (DEI): Board and staff have developed an outward facing statement to reflect the organization's values, practices, and policies around DEI
Executive leadership supports staff members' efforts towards their DEI values: Time and space is allocated for staff to work on these issues within their capacity and role
Executive leadership has identified advancing race equity as a priority for the organization, but may not yet know how to embed it into the organization's operations and/or strategy: The organization may have realized and/or started the necessary personal and interpersonal pre-work
The organization has demonstrated a willingness to learn about equity: The board has been involved in conversations about the organization's work in equity and the organization has taken steps to build shared learning in equity among staff (e.g., staff conversations, brown bag lunches, a training, or attending workshops)
The organization and board have an appetite and capacity for change: The organization has assessed the bench strength required to take on this work
The organization intends to contribute additional time and/or resources after completing the program to continue learning and transformation around racial equity: The organization recognizes the value of offering coaching support for key leaders and bringing on external support by others who are trained in DEI, organizational development, and change management
The participants (board and staff members) are eager to participate and committed to all program activities and expectations: All participants agree to attend all in-person and online sessions, prepare for sessions by completing pre-work and homework in between sessions, and meet with their organizational cohort outside of facilitated programming to move the work forward (e.g., set goals, develop experiments, create work-plans)
​
Expected Grantee Outcomes
Build a shared commitment around race equity across staff and board
Address power dynamics in decision making and staff authority
Align efforts around race equity (in direction and pace) so that staff and board are moving together
​
Grantee Participation Requirements
Organizational cohorts should include 4 participants and a racially diverse group per organization*

Two Board members (ideally including the Board Chair).
Two Staff members:

Individual who is authorized to make decisions around strategy (ideally the ED/CEO).
Individual who would play a key role around implementing race equity through internal operations and human resources (consider the COO, HR Director).

At least one person who has deep experience with race equity and skills as a "bridger" to help support communication between people at different points in their journey.
*We are happy to work with smaller organizations who may need flexibility as they identify this cohort.

All participants should expect to complete:

Pre-work before each activity.
Ongoing work between program elements (self-guided action steps to make progress towards their identified goals for operationalizing equity in the policies and practices of the organization).
Surveys and assessments, as requested.
Service Dates and Locations
2.5 days in-person gathering (Sept 2019)
~ 3 virtual workshops (estimated Nov 2019, Jan 2020, and Mar 2020)
~ 3 virtual coaching sessions per organization (estimated Oct 2019, Dec 2019, Feb 2020, or Ap 2020)
1.5 days in-person gathering (May 2020)
**Location for in-person gatherings and specific dates for all components will be set based on grantee participation and availability; participants may need to travel to join the in-person gatherings.​