Management Assistance Group: Board Development Consulting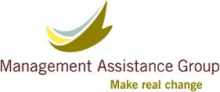 Organizational Overview
Management Assistance Group (MAG) supports social justice leaders, organizations, and networks in building strong movements for a more just world. We have more than thirty-five years of experience working with thousands of social change organizations, networks, funders, and leaders. We deeply understand the strategies – such as public education, litigation, advocacy, media, lobbying, community organizing, coalition building, network building, policy analysis, and grassroots mobilization – that anchor social change. We are passionate about strengthening movements and intersectional approaches to address pressing social issues. For more information, visit www.managementassistance.org.
Service Description
Boards and organizations often face multiple complex challenges as they work to advance organizational, cross-sectoral, and movement goals. These challenges relate to creating supportive structures and beneficial board composition, motivating the board to be fully engaged in value-added roles, managing leadership transitions, and making strategic decisions that better support leaders and whole organizations. This customized board development service from Management Assistance Group (MAG) supports organizations in developing the board leadership needed to become nimbler and adaptive in managing organizational change.
MAG will partner with each organization to develop a customized program focused on strengthening board leadership, improving board engagement and increasing board diversity. By using a multi-pronged strategy of one-on-one interviews with board and staff, a board survey assessment, coaching and a series of E-Learning sessions, you can expect increased performance and collaboration between and among executive staff and board members. There will be a shared sense of the organization's mission and strategic priorities based on the interests and needs within the context of institutional culture, systemic factors, and individual awareness and capacity. There will be an increased understanding of diversity and equity and the implications of these issues for the board and organization. Staff and board will look forward to meetings as an opportunity for constructive conversations on the questions that matter most, while board members will leave meetings feeling confident that their work has been consequential. Board members will make commitments and follow-through to advance the organization's mission and sustainability.
Eligibility Guidelines
Organizational Need: Seeking stronger board leadership, improved board engagement and increased board diversity to create a board that is nimbler and adaptive in managing organizational change.
Equity Commitment: Organizations have a commitment to diversity, equity and inclusion and are open to new ways of working to incorporate more equitable practices.
Personnel Commitment: Participation from the organization's Executive Director and up to three other board members (including the board chair).
Time Commitment: Nine-month customized consulting engagement

Be prepared to engage in all levels of the project including homework assignments between E-Learning sessions.
Participating in this offering will require up to 24 hours of customized virtual programming time for board and staff time over a nine-month period.

Financial Commitment: No travel required.