In early 2012, Kresge's Environment Program team convened a group partners to share knowledge about climate-change adaptation efforts. This page provided place for participants to find related information before and after the gathering. It was "retired" after 11 months and more than 1,500 visits.
Members of our Environment team met in Portland, Ore., with grant recipients and others working on climate-change adaptation in early February, 2012.
An opportunity to share knowledge about adaptation projects, the convening was the first time organizations and researchers funded through Kresge's adaptation portfolio had come together to review progress and problems. Around 80 people took part.
(Participant biographies  |  Workshop agenda  | Related material hosted by the Climate Adaptation Knowledge Exchange)
Ideas from the event have now been distilled in report: Climate Adaptation as an Evolutionary Process: A White Paper. The report synthesizes information about different approaches to problems and other lessons derived from the two days of discussion.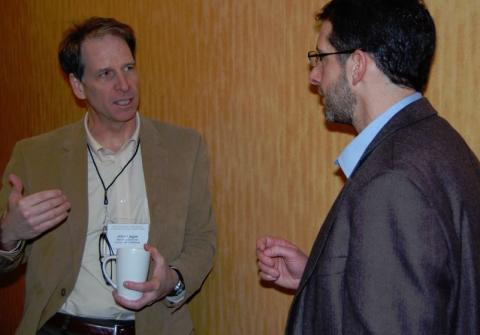 Participants contributed research and summaries of adaptation projects in advance of the gathering.
Drawn from Environment Program grant recipients and partners, those resources follow. The material is arranged by the names of the organizations that contrbuted.
 
Contributors A - I
Adaptation International
Adaptation International is a woman-owned small business whose mission is to help communities, businesses, and organizations prepare for the impacts of climate change. Adaptation International provides expertise and analysis customized to the needs of our clients.
With current projects in Tucson, Austin, and Seattle, the firm specializes in bridging the gap between climate science and community action by developing the tools and resources necessary to mainstream climate change adaptation. Adaptation International staff has been working on climate change adaptation issues for more than six years and has expertise in climate change science, public policy, municipal operations, human health, and stakeholder involvement.
Adaptation International works directly with climate scientists and local decision makers to translate and interpret the current science on climate change impacts, so that it can be used effectively to support the identification, development, and prioritization of adaptation strategies to increase climate resilience.
As an example of this work, Adaptation International is working with Cascadia Consulting and the Stockholm Environmental Institute to support the City of Tucson's climate vulnerability assessment and adaptation planning efforts. This project includes broad involvement from many City departments, the community climate change committee, CLIMAS, and appropriate County and State departments. 
The current focus is on completing the climate vulnerability assessment by evaluating potential climate and weather related exposure and socio-economic sensitivity and adaptive capacity. Stakeholder input will be used to identify and prioritize key areas of concern and develop adaptation strategies.
Resources:
Presentation by Sascha Petersen on the Climate Impact Decision Support Tool at the 2011 AMS Adaptation Conference in Asheville North Carolina.
 
American Rivers
Through American Rivers' climate-adaptation work, we have made strides toward implementing a new vision for managing water that prepares people and wildlife for a changing climate. We work in the field of climate change adaptation at the local, state and federal levels.
Our research and policy reports like Weathering Change and Natural Security are helping to educate government leaders on the threats of climate change and new solutions that work with natural systems to make communities more resilient to climate change, manage flood waters, and protect drinking water supplies.
We also engage with local leaders and utility managers to create more resilient solutions by implementing green infrastructure projects and advocating for permits, policies and funding that prioritize or require these approaches. We have laid the foundation for broad changes in water management and have had significant success advancing climate adaptation policies at the state level. We have worked with states to develop comprehensive adaptation plans that will use smart actions and practices to impact future land use and infrastructure decisions.
American Rivers' staff members played a substantial role in developing statewide adaptation plans in Maryland, Pennsylvania, and Washington state. American Rivers advocates for these and other "green infrastructure" practices and supporting policies that use natural defenses to meet human needs while enhancing natural ecosystems.
Resources:
Report – Weathering Change
Report ­­ – Natural Security
Climate Ready Water Utilities – Final Report of the National Drinking Water Advisory Council

Bay Area Climate and Energy Resilience Project – Joint Policy Committee
Project Summary
The Joint Policy Committee, in conjunction with its expert advisory groups, will oversee the preparation of a compelling case, based on sound science and initial risk assessment, for why the Bay Area must develop a coordinated approach – public and private, local and regional, near-term and long-term, etc. – to planning for climate/energy resilience. A summary report will outline the case and will form the basis for a series or leader briefings and a regional public event. The case will be built around five key points:
Substantial Bay Area climate and energy impacts will significantly affect the Bay Area's economy, public health and ecosystems.
The Bay Area has a wide range of feasible options for action that will build resilience to climate and energy impacts. We can make a difference.
We must initiate coordinated Bay Area climate and energy resilience planning NOW. While initial work is underway on some selected topics, we need an overall game plan that will support and enhance action by local governments and other entities.
There are a number of viable structural options for organizing the different phases of resilience planning for the Bay Area's 101 cities, 9 counties, and hundreds of special districts.
While the economic crisis is putting a severe financial strain on many public agencies, foundations, and other funding sources, there are feasible financing options for both resilience planning and strategy implementation.
 
Carpe Diem West
Carpe Diem West engages western water leaders to collaboratively develop innovative solutions for the American West's growing water challenges.
Carpe Diem West approaches the wicked problems of western water and climate change by building a neutral forum and vehicle for action in which smart, innovate thinkers from various sectors come together to discuss ideas, generate shared policy ideas, and develop ways to implement those ideas.
The organization's most valuable asset is an extensive and broad-based Network of professionals from different parts of the water world – federal, state, and tribal governments and utilities, industry, conservationists, and the scientific community. By drawing on the deep expertise and collective knowledge of this Network, Carpe Diem West is able to leverage a tremendous amount of work and influence in the fields of western water and climate change, despite its modest budget and staff.
The Carpe Diem West Academy is one of the organization's three lead programs (the others: Healthy Headwaters and Colorado River Futures). The Academy supports western water and energy mangers to effectively incorporate climate science in their work and decisionmaking.
The Academy does this by:
Supporting a learning community of western water managers, decision makers, NGO stakeholders and scientists.
Providing a web portal that includes compendium of vetted tools and information and a decision making framework.
 
Clean Air-Cool Planet's Northeast Climate-Preparedness Initiative
The reality that climate change is already occurring presents new challenges to local and regional governments. Climate change requires preparation for sea-level rise and more intense drought and flood events, and assessment of infrastructure vulnerability, public health impacts, and threats to public water supplies, among others. Planners and managers need localized information about projected climate impacts, tools for assessing vulnerabilities and creating solutions, and help in communicating effectively with taxpayers, local elected leaders and citizens.
Building on its prior work with communities, the private sector, universities and the science community, Clean Air-Cool Planet is conducting an intensive effort to assist communities throughout the Northeast in preparing for, and increasing their resilience to climate change.
Our objectives are: a) to identify and assist the development of a network of community officials and stakeholders concerned about adaptation; b) to help this network access technical assistance, information, and resources from peer communities as well as from federal and state agencies and NGOs; c) to create an information hub to serve the network; and d) to work intensively in several key locations to empower communities to develop and implement model climate preparedness strategies.
Priority activities include:
Identifying community-level barriers, resources, and planning needs. See "Preparing for a Changing Climate; A Northeast-Focused Needs Assessment" June 2011.

Collaborating with select communities on adaptation planning, implementation and outreach;

Linking the NE Adaptation Network to federal programs focusing on adaptation issues.

Mobilizing our civil society networks to support federal adaptation leadership and coordination.
Resources:
The New Hampshire Climate Preparedness Data Directory 
The NOAA Roadmap Tool in Context: Climate Preparedness in Coastal New Hampshire
 
Climate Adaptation Knowledge Exchange
TheClimate Adaptation Knowledge Exchange (CAKE) is a joint project of Island Press and EcoAdapt. Launched in July 2010, CAKE was built to support organizations, agencies, and individuals interested and engaged in climate change adaptation by providing a venue for open-access information exchange between professionals. The primary goals of CAKE are to:
Build an innovative community of practicearound climate change adaptation,
Facilitate the identification and development of best practices, and
Connect practitioners to share knowledge and strategies.
CAKE includes Case Studies of on-the-ground adaptation efforts; a Virtual Library of useful resources to support adaptation action; a Directory of individuals and organizations rich with adaptation knowledge; a Tools section full of online resources for adaptation action; and a Community section with an expert advice column, discussion forum, and more. CAKE presents valuable content on climate change adaptation in an approachable format that invites user contributions with the aim of creating a living knowledge exchange among a growing, interactive community of people concerned about climate change adaptation.
Resources:
Visit the Island Press website and read about us in the New York Times Science section.
Access the CAKE website and view CAKE's:
Climate Solutions University: Forest and Water Strategies
Climate Solutions University: Forest and Water Strategies (CSU) is a national program that empowers rural communities to design and implement climate adaptation plans to safeguard local forest and water resources and support viable rural economies. It directly addresses the critical need for healthy forested watersheds in the quest for climate resilience in the face of escalating climate impacts. CSU is the flagship program ofthe Model Forest Policy Program (MFPP), a national nonprofit that advocates for forest policies and practices that restore and sustain healthy productive forests, clean and abundant water supplies, and economically thriving climate-resilient communities.
Established in collaboration with the Cumberland River Compact, CSU operates through a community-based, distance learning network that links underserved rural communities across the U.S. It provides an interactive 10-month distance learning curriculum focused on assessing local climate risks and developing local adaptation strategies.
The program engages four to six new communities each year with leaders ranging from local government to watershed organizations to educational institutions. CSU goes on to support implementation of the adaptation plans with a shared learning network for up to five years. The process results in strengthened local leadership, public engagement, and progress toward the outcomes of protection of forest acres, stream miles, and human and ecological health; preservation of natural resource based economies; and public support for climate adaptation.
In 2012 there will be 18 communities that have completed the planning process and are taking adaptation actions ranging from climate provisions in comprehensive plans to revised land use codes to climate considerations in endangered species recovery plans.
Resources:
Model Forest Policy Program Website
2010 Community Climate Adaptation Plans
State of Connecticut
Connecticut is a leader in adaptation; we have a number of tools developed for communities as well as robust outreach efforts and other support for towns available. We have also compiled historic monitoring information to track climate change and inform adaptation strategies so it is done in the most economically and environmentally sound way. The following are notable examples:
Sentinel Monitoring of Climate Change for Long Island Sound is a bi-state and federal effort to compile and use historic monitoring to track what is happening in LIS. Since the 1980s, sea level rise has accelerated and water temperatures have risen in Long Island Sound, beyond background levels that had remained constant since the beginning of the last century. Strategic Plan and indicators at: http://longislandsoundstudy.net/research-monitoring/sentinel-monitoring/
OLISP had 2010 cutting edge Groton Coastal Climate Change Adaptation Workshops using Groton as a model. The final report and presentations from the series that engaged over 100 people from local state and federal government is here: Groton Workshops As a result Groton has started considering climate change in their planning process (See October 2010 Sound Outlook).
CT DEEP has a Municipal Climate Change Network of towns and state staff who are moving forward with cutting edge climate efforts, and a CT Climate Education Communication Committee which is a varied group of educators from the private, government and academic sector who meet virtually or in person every month to keep informed on best available science and educational practices.
 
Conservation Biology Institute
Southern Sierra Partnership: Cooperative Conservation and Climate Adaptation
The Southern Sierra Partnership (SSP) is an alliance of the Conservation Biology Institute, Audubon California, Sequoia Riverlands Trust, Sierra Business Council, Tejon Ranch Conservancy, and The Nature Conservancy. 
In 2009, the SSP engaged in a collaborative conservation planning for 7 million acres which incorporated climate change. The SSP developed a Regional Conservation Design across public and private lands and regional and project-scale conservation strategies. The Regional Design serves as a hypothesis of what it will take to conserve the natural systems of the region in the context of a changing climate. The priority areas represent how different parts of the region can contribute to a network managed for ecosystem resilience. In last three years, the SSP has conserved more than 94,000 acres essential for climate adaptation and landscape connectivity.
To make our work relevant to local officials and broader range of stakeholders, we are reframing our conservation and adaptation goals into economic, social, and health terms, and implementing outreach and communications strategies. We are engaged in regional land use planning initiatives, such as the San Joaquin Valley Greenprint, and riparian restoration projects to improve groundwater recharge, flood control, and create wildlife habitat.
Resources:
Southern Sierra Partnership's Cooperative Conservation and Climate Adaptation Framework for the Southern Sierra Nevada and Tehachapi Mountains
 
Conservation Northwest
Conservation Northwest aims to connect, protect, and restore the wildlands and wildlife from the Washington Coast to the BC Rockies. Two programs address the need to assist species and ecosystems adapt to a changing climate include:
Building resiliency and adaptation strategies into national forest management.
Ensuring habitat connectivity in Washington and neighboring habitats.
Our national forests make up millions of acres in the northwest that are the headwaters to many of our watersheds and vital source habitat for wildlife.
Working with national forest staff to build resiliency into habitats today through restoration of vegetation and roads has immediate impacts for wildlife today, and allows great ability for these key habitats to handle disturbance and change. Our staff are working with the approximately 5 million acres on the Okangan-Wenatchee and Colville National Forests to build adaption into their forest plan revisions and deliver projects on the ground.
The Washington Wildlife Habitat Connectivity Working Group is an open public-private collaborative working to bring the best available scientific analyses and tools to interested parties on ensuring a connected network of habitats for wildlife in Washington and neighboring habitats today and with changing conditions. We work to bring this science into implementation through our programs and campaigns.
Each year we host a WildLinks conference to bring together agencies, NGO's, scientists, foundations, tribes, and interested parties together across political boundaries around a specific geography or topic important to wildlife in the northwest. In 2010 and 2011 we focused on climate adaptation.
Resources:
USFS report on climate adaptation plans in the Okanogan-Wenatchee and Colville National Forests PDF
Washington Connected Landscapes Project: Statewide Analysis
Washington Connected Landscapes Project: Climate Gradient Corridors
2011 WildLinks event summary, including links to presentations of: Coordinating across political borders to help species and habitats adapt to a changing climate
2010 WildLinks event summary, including links to presentations on: Building partnerships, connecting habitats, adapting to change
 
EcoAdapt
Climate change is real. It is not a problem of the future, it's a problem of now. The disruptions it is causing require that we change the way we consider conservation and resource management in order to ensure the future of ecosystems. In order to protect these areas from the unavoidable effects of climate change, EcoAdapt provides support, training, and assistance to make conservation and management less vulnerable and more Climate Savvy.
Over the past 200 years, great strides have been made in the world of conservation and now all of that is at risk because of climate change. EcoAdapt is working to ensure the success of these past efforts by delivering a framework for climate adaptation. We help governments, organizations, and individuals figure out how to do what they do effectively, even in the face of climate change.
EcoAdapt, founded by a team of some of the earliest adaptation thinkers and practitioners in the field, has one goal - creating a robust future in the face of climate change. We bring together diverse players in the conservation, policy, science, and development communities to reshape conservation and resource management in response to rapid climate change.
Our main objectives include:
Building the field of adaptation by coordinating, magnifying, and making climate change adaptation capacity and resources more accessible.
Building capacity of current and future professionals in conservation, planning, and development so they can engage in climate change adaptation.
Supporting implementation of adaptation strategies by providing capacity to partners eager to take climate adaptation action.
Resources:
Climate Adaptation Knowledge Exchange(CAKE)
Climate Savvy: Adapting Conservation and Resource Management to a Changing World
Report - The State of Marine and Coastal Adaptation in North America: A Synthesis of Emerging Ideas
EcoTrust's E3 Network
E3 Network is a large and growing network of economists (250+) committed to applied research for environmental protection. Through research and effective outreach and engagement with decision makers, media, NGOs, and other stakeholders, E3 Network works to improve environmental decision making. We seek to grow and support an active network of associates doing policy relevant research with a social justice focus that can be communicated to multiple audiences.
We are creating a well-recognized community where economists can find support, encouragement, and validation for applied environmental practice while supporting the evolution of a new generation of economists dedicated to social change.
E3 Network is a program of Ecotrust. Ecotrust's mission is to inspire fresh thinking that creates social equity, economic opportunity, and environmental well-being. Ecotrust is headquartered in Portland and is a unique organization; it integrates public and private purpose and for-profit and non-profit structures.
Ecotrust's many innovations include co-founding the world's first environmental bank, starting the world's first ecosystem investment fund, creating a range of programs in fisheries, forestry, food, farms and children's health, and developing new scientific and information tools to improve social, economic and environmental decision-making.
 
Environmental Defense Fund: Coastal Louisiana Restoration Project
The Mississippi River Delta is a vital national resource, but it is disappearing at an alarming rate that must be reversed.
Every hour, an area of coastal land the size of a football field vanishes under water. Since the 1930s, almost 1,900 square miles of wetlands – an area almost the size of Delaware – has disappeared from the Louisiana coast. Each day, communities find themselves closer and closer to open water, more vulnerable to hurricanes and sea level rise.
This land loss has been caused by nearly a century of federal policy decisions to channelize and control the Mississippi River for economic development and navigation. The health of the delta is vital to the economic health of the nation. Coastal Louisiana is home to the largest wetlands ecosystem in the United States, major energy, fishing, shipping and tourism industries, and unique people and cultures. All of these precious benefits are at stake if we do not reverse land loss, revitalize the system, and redesign the delta.
We are working with state and federal governments to champion support for large-scale restoration projects and to secure the necessary revenue streams. Restoring a healthy deltaic system (including cypress forest, barrier islands and wetlands) in coastal Louisiana can buffer storms and offset sea level rise. It will protect the local communities, fishing economies, and distinctive cultures that rely on the coast for their livelihood. EDF is leading an initiative to redesign the Lower Mississippi River Delta, bringing international engineers together to think outside the box and sustainably redesign the delta.
Resources:
Environmental Defense Fund: Coastal Louisiana Restoration Project Website
 
Florida Fish and Wildlife Conservation Commission Climate Change Program
The Florida Fish and Wildlife Conservation Commission has two projects that begin in 2012. The first is Developing Climate Change Adaptation Strategies for Florida and will be conducted with the assistance of Defenders of Wildlife.
This project will create a one-stop resource for resource mangers that will detail the expected impacts to the areas, species/habitats they manage. It will also enumerate climate change adaptation strategies for those resources. Finally, DOW will build four case studies using varied examples (e.g., Wildlife Management Areas, a specific imperiled or hunted species, a specific habitat) to demonstrate how an adaptation strategy can be developed for that resource. The manager will then be able to access this source to identify what they may expect, how they can deal with it, and provide an example an adaptation strategy developed for a similar resource.
The second project is titled Alternative Futures Under Climate Change for the Florida Key's Benthic and Coral Systems. This project will be in association with MIT and GeoAdaptive and using their urban planning models, will develop a spatial tool to examine potential changes to critical marine habitats and species using alternative an future scenarios approach. We will conduct a series of workshops with climate change impact, habitat, and species experts as well as marine resource managers. The managers will define the scenarios most relevant to their case (e.g., willingness for conservation and reserves, changes in fishing pressure) and will come together at the end to begin developing adaptation strategies.
 
Freshwater Future
Freshwater Future's Great Lakes Community Climate Program is training citizens and community groups to incorporate climate change into their decision making and project development, and providing the tools and support necessary for them to succeed. The program includes four elements: Climate Symposia, Great Lakes specific climate materials, a community grants program, and ongoing support.
Freshwater Future worked with EcoAdapt to develop a climate workshop for community based groups in the Great Lakes region. The two day Climate Symposia are offered twice a year and provide attendees with a basic introduction to climate science, tools to help them to utilize a climate adaptation framework in their projects and decision making, and an opportunity to network with other groups working on climate issues.
Freshwater Future and EcoAdapt are also working together to develop and disseminate Great Lakes specific training and implementation materials for the Climate Symposia, and a community resource toolkit for use throughout the Great Lakes region. Toolkit materials include a workbook to help community-based groups walk through the process of considering climate in their decision-making; fact sheets for use in outreach to municipalities, resource managers and others; success stories highlighting methods other communities have used to include climate adaptation into project planning and decision making; and supplemental resources.
The climate adaptation grants program provides project grants to community based groups throughout the Great Lakes basin. Grant recipients are required to attend a Climate Symposium to ensure they have the tools needed to develop climate savvy projects, and receive ongoing coaching and assistance from Freshwater Future staff.
Resources:
Freshwater Future Website Climate Adaptation Information
 
Georgetown Climate Center
Georgetown Climate Center has worked with a variety of regions and communities to help facilitate climate change adaptation. We maintain a website with current information on relevant federal legislative activity and state adaptation planning, have published reports and toolkits, and have recently authored a chapter on adaptation at the state and local level for an upcoming ABA book.
GCC also maintains the Adaptation Clearinghouse, an online database of roughly 1,000 resources and a networking tool to assist state and local policymakers, resource managers, and others working to help communities adapt to climate change.
The Georgetown Climate Center developed a Sea-Level Rise Tool Kit analyzing eighteen different land-use tools that state and local governments can use to adapt.
The Center also works on similar initiatives to help state and local governments implement long-term responses to urban heat island impacts from climate change, through the work of Sara Hoverter. The Center has developed an Urban Heat Tool Kit (upcoming 2012), and is working with the Cities of Milwaukee and the District of Columbia to help them develop on the ground strategies for implementing urban heat adaptations, such as green roofs, cool roofs and cool pavements.
 
Geos Institute's ClimateWise Program
The Geos Institute, in collaboration with the Climate Leadership Initiative, piloted a process that facilitates climate change preparation planning and implementation at the local and regional level.
Through our ClimateWise program, we bring the best available science to community and natural resource planning, building bridges among respected scientists, local stakeholders and community decision makers. We work across disciplines to increase local understanding of the role of functioning natural systems in buffering climate change impacts to human communities and in providing vital ecosystem services. Diverse community sectors come together to explore the science and develop a common understanding of the associated risks of climate change specific to their region.
With this common understanding, they proceed to develop strategies to reduce the vulnerability of their community in an integrated and ecologically sound manner. From the beginning, the process is guided by a steering committee made up of local leaders and stakeholders who help to garner support and participation, prioritize strategies, and move from planning to implementation.
Resources:
Links for all completed ClimateWise projectsincluding specific reports for:
Global Institute of Sustainability – Urban decision-making in conditions of uncertainty
Often the barrier to meaningful change is not the lack of information but the ability to evaluate alternatives and then determine the best policy actions to take in complex, dynamic systems such as energy consumption, impact of climate change or urban development patterns.
The Global Institute of Sustainability at Arizona State University has taken the lead on creating tools to empower decision makers at many levels through visualization tools, computational models and demonstration projects.  The combination of lessons learned with decision-making tools is a unique and powerful force for addressing the challenge of urban sustainability.
To truly have impact and ensure a sustainable way of life in cities, these assets are available to organizations working with communities that face immediate and intractable long-term challenges of adapting to climate. One of these tools is the Decision Theater, a state of the art visualization, simulation and research center. The faculty, scientists and students at Decision Theater develop and employ cutting edge decision-support tools which help stakeholders look across and within complex systems.
Our decision support tools and immersive environments are uniquely created to bring clarity and understanding to complex and often disparate sets of information. Decision Theater enables decision makers to see things differently, gain consensus and make better informed decisions.
 
Great Lakes Adaptation Assessment for Cities
The Great Lakes Adaptation Assessment for Cities (GLAA-C) project is a collaborative integrated Assessment project on adaptation and sustainability in Great Lakes cities. It is a US $ 1.2M effort supported equally by The Kresge Foundation and the University of Michigan's Graham Institute. GLAA-C seeks to achieve the overarching goal of strengthening the science and decision making necessary for more effective urban adaptation and sustainability in the Great Lakes region.
Specifically, the project aims to:
Work closely with decision makers in a suite of Great Lakes cities that will experience different classes of climate impacts and build a network of decision makers and scientists invested in the sustainability of Great Lakes cities.
Advance the science needed for urban resilience and sustainability.
Leverage its regional, place-based findings and products for greater usability by urban decision makers.
GLAA-C is being implemented by a team of researchers, staff, and students from the University of Michigan in collaboration with partners in the region. The U-M team includes social, ecosystem, and climate scientists, integrated assessment specialists, and students eager to learn about adaptation threats to urban sustainability and how to ameliorate such threats. Apart from meetings - and small grants-based project reports - team members are working with allied initiatives and organizations, in particular the Great Lakes Regional Integrated Sciences and Assessments Center (GLISA), and the NSF-funded Water Sustainability and Climate Change initiative.
We also plan to work on themes of mutual interest with ICLEI - Local Governments for Sustainability, the Great Lakes and St. Lawrence Cities Initiative, and the National Wildlife Federation. The project will generate adaptation and sustainability studies of specific cities, an urban impacts and adaptation simulation tool for use by decision makers, a website on threats and adaptation strategies for Great Lakes cities, and peer-reviewed as well as informal publications relevant to adaptation in the Great Lakes region aimed at researchers and decision makers.
Resources:
We are in the process of building the website for the project. Interested participants can contact Arun Agrawal at arunagra@umich.edu or Maria Lemos at lemos@umich.edu for two different project reports that we have produced.
 
Gulf of the Farallones National Marine Sanctuary, Ocean Climate Initiative
The Ocean Climate Initiative, spearheaded by Gulf of the Farallones National Marine Sanctuary and run out of our Ocean Climate Center, addresses climate change impacts along the North-central California coast and ocean environment through fostering awareness, advocating solutions, and promoting action among government agencies, public organizations, private corporations, and individuals to build ecosystem resilience and sustainability.
The Gulf of the Farallones is a leader in coastal and ocean climate change. We have hosted two summits on Oceans and Climate Change. In 2011 we published the Climate Change Impacts Report for the North-central California Coast and we are currently partnering with the US Geologic Survey and PRBO Conservation Science to develop an online decision support tool for coastal managers and land use planners on sea level rise and extreme storm events for the North-central California Coast and San Francisco Bay.
Determining Climate Change Indicators for the North-Central California Coast – This project of USGS Western Ecological Research Center, NOAA's Gulf of the Farallones National Marine Sanctuary and the Bay Area Ecosystems Climate Change Consortium is developing a set of linked environmental and biological climate change indicators for the north-central California coast.
The indicators will be integrated into a collaborative monitoring plan to help track and address the effects of climate change. This first-of-its-kind effort within the National Marine Sanctuary System will produce a regionally-specific set of indicators to ultimately help inform management decisions.
Workshops with regional experts, numerical computer modeling, and data analysis will maximize confidence in the chosen indicators. A stakeholder working group will ultimately define regional monitoring goals and incorporate the climate change indicators into a comprehensive monitoring plan for the north-central California coast.
Resources:

Our Coast - Our Future Report
2010 Ocean Climate Summit Report

Climate Change Impacts Report

California King Tides Initiative Report
 
Headwaters Economics – Climate Change and Western Communities
Headwaters Economics provides original and effective research to people and organizations that make a difference in the West. We work with community leaders, landowners, public land managers, elected officials, business owners, and other nonprofit organizations. Our goal is to give these partners credible information they can use to identify and solve problems.
Community-based climate adaptation planning in Missoula, MT: We are participating in a climate adaptation planning process that includes an analysis of vulnerabilities and socioeconomics impacts from climate change along with a number of interactive, on-line tools with actions and strategies: Preparing Missoula County for a Changing Climate
Resources:
Complete list of all of Headwaters Economics climate-related work
 
Implementing a Climate Adaptation Framework in the Crown of the Continent
The 18 million‐acre Crown of the Continent (COTC) is an ecological crossroads where plant and animal communities from the Pacific Northwest, eastern prairies, southern Rockies, and boreal forests mingle. This spine of glacier‐carved mountains is the headwaters for pristine rivers that flow to the Pacific Ocean, Gulf of Mexico, and Hudson Bay.
The COTC is also a place where nations and cultures meet. Across this vast landscape, native peoples have thrived for thousands of years. At the core are Waterton Lakes and Glacier National Parks, designated as the world's first international peace park. Surrounding the protected parks are lands controlled by dozens of federal, tribal, state and provincial agencies, as well as private land owners. By 2030, some experts predict that most or all of the 25 glaciers remaining in Glacier National Park may be lost. Other changes will manifest in less obvious ways, and will play‐out in 21 watersheds shared by the US and Canada.
The COTC has all the human capacity and natural resource elements to prototype large scale adaptive management and network governance. The opportunity to connect the region's capacity to sustain communities and landscapes – across all jurisdictions, communities, and sovereign borders – is at hand. The Roundtable on the COTC is a forum to connect all of these initiatives, and foster regional dialogue.
As an experiment in network governance, the Roundtable is not any particular group of people, a government commission, or a new organization. By contrast, it provides the connective tissue among the diverse individuals, groups, and communities that inhabit this region. The Roundtable is positioned to build the social capital to support adaptation of the natural capital.
Resources:
Roundtable on the COTC Resources website
 
Institute for Sustainable Communities
The Institute for Sustainable Communities (ISC) specializes in strengthening the capacity of communities, government agencies, sustainability practitioners, businesses, and NGOs to accomplish their environmental, economic and social goals.
ISC is focusing on the countries and regions with the highest emissions and/or that are most vulnerable to climate change. Our approach emphasizes peer-to-peer learning, catalyzing replication of effective approaches, improving access to best practices and expertise, and providing direct technical assistance. ISC has delivered over 4,500 tailored trainings to more than 65,000 people worldwide.
Our U.S. program centers on the Sustainable Communities Leadership Academy with includes:
The Climate Leadership Academy focused on accelerating local solutions for climate mitigation and adaptation.
The Urban Sustainability Leadership Academy focused on strengthening the leadership skills of senior-level local government sustainability directors.
The National Sustainability Learning Network focused on building the capacity of 225 HUD "Sustainable Communities" grantees.
Each SCLA program consists of three primary components:
A series of intensive 3-day peer-learning workshops designed to accelerate the transfer of promising practices within and across cities and metro regions.
Resource guides and case studies, that provide efficient access to the most promising practices and the most valuable tools and information available to practitioners.
On-going training and peer-learning services.
ISC also provides direct technical assistance in select adaptation projects around the country, including the Southeast Florida Regional Climate Change Compact, the State of Vermont and the Western Adaptation Alliance.
Resources:
Adaptation & Resilience Climate Leadership Academy Resource Guide, V1.0
 
Island Climate Adaptation and Policy
As a focal point for University of Hawai'i climate law and policy expertise, the Center for Island Climate Adaptation and Policy (ICAP) serves as a two-way conduit between the university and island communities and decision-makers to catalyze climate change adaptation and resiliency. The need for climate adaptation solutions is particularly acute in the Hawaiian Islands yet the state currently has few policies in place that will enable preparation for anticipated changes in climate.
The Kresge Foundation grant helps ICAP to build the field of climate change adaptation and develop practical tools for Hawai'i island communities; assist local communities to prepare for and be resilient to climate change impacts; and, advise state policymakers and other decision-makers on laws, regulatory frameworks, and emergency preparedness practices.
Native Hawaiians and other vulnerable communities are especially at risk: for example, the threats to resources such as fresh water will impact traditional cultivation of taro, which relies on a consistent supply of cool, fresh water. In addition, many communities in Hawai'i are among the least resilient due to existing socio-economic factors.
ICAP will lead a climate change policy symposium for Native Hawaiian and other vulnerable communities in the spring of 2012 that will draw on Native Hawaiian and other indigenous knowledge, combining it with the latest developments in western science, planning, and policy-making.
Resources:
Contributors J - Q
Local Government Commission
The Local Government Commission, in partnership with the Geos Institute and Susanne Moser, worked with Fresno and San Luis Obispo (SLO) counties to develop comprehensive adaptation strategies that address both natural and socioeconomic systems.
We worked with local decision makers, experts and other stakeholders to develop a suite of strategies across socioeconomic and natural resource sectors. The Local Government Commission led the socioeconomic systems effort, which addressed: health and emergency preparedness, agriculture and related tourism, water, infrastructure, and coastal and marine tourism. The Geos Institute addressed species and ecosystems sectors.
This project resulted in adaptation strategies in two counties that had previously focused solely on climate change mitigation. Our success can be attributed to the strong base of support and the comprehensive set of information developed during the project period. We were able to do this by working with knowledgeable experts that provided in-depth information about potential climate change impacts to natural and socioeconomic systems in both regions. We also worked with leaders from impacted sectors to build capacity and create a strong, diverse coalition of local messengers to continue momentum and ensure sustainability.
The information developed through our effort has laid a strong foundation in Fresno County and San Luis Obispo County to implement adaptation strategies during future and ongoing planning efforts at the regional and local level. The two models also provide a starting point for other regions interested in adaptation, especially those with similar climate impacts and geographical, economical and political landscapes.
Resources:
Local Government Commission - Climate Change
Fresno County Climate Change Adaptation
San Luis Obispo County Adaptation
 
Louisiana Coastal Lines of Defense Project Summary
The primary goal of the Louisiana Coastal Lines of Defense project is to establish permanent, systemic changes to federal and state policies and programs to create a systems-based approach to coastal resiliency and sustainability.
Over the past century, Louisiana has lost approximately 1900 square miles of coastal wetlands. Roughly translated, this is an area equivalent to the entire state of Delaware that has been converted to open water. While a fraction of wetland loss in Louisiana is attributable to the natural deltaic process typified by alternating cycles of sediment deposition and subsidence, substantial human alteration of this landscape is responsible for the majority of Louisiana's coastal land-loss.
The consequences of this environmental collapse were evident in the aftermath of four major hurricanes since 2005 and the BP Deepwater Horizon Disaster in 2010, exposing the vulnerability of coastal communities that rely on this vast wetland complex for storm protection and natural resource production.
In response to the continuing collapse of Louisiana's coastal environment, our organizations have worked to develop and implement the Louisiana Coastal Lines of Defense Strategy as a systems-based approach to achieve risk reduction, coastal restoration and community resiliency in coastal Louisiana. The strategy is based on the premise that the most effective and sustainable path to reducing risk for coastal communities requires the systemic integration of engineered structures, coastal restoration measures and community adaptation strategies. 
Resources:
2008 Multiple Lines of Defense Strategy Report
 
Manomet Center for Conservation Sciences
The Manomet Climate Change Adaptation Project is intended to identify and implement opportunities for adapting to climate change in New England. Emphasis is placed on adaptation measures that maintain or enhance ecosystem services.
Manomet staff is working to develop adaptation plans at two different geographic scales. At the smaller scale, Manomet is working with individual landowners who are involved in a mix of forestry, agriculture, management of conservation lands and rural residential development. Our interactions with landowners have resulted in a tremendous and mutual learning opportunity. In many cases, conversations with landowners have confirmed that they are already experiencing changes to climate in New England, ranging from subtle to significant. From the Manomet perspective, the exchanges have been an opportunity to gain insight into a broad range of operational issues, concerns, and adaptation opportunities that we would not have access to otherwise.
At the larger geographical scale, Manomet staff is addressing climate change adaptation in the Taunton River watershed in Massachusetts, the Sebago Lake watershed in Maine and the Sagadahoc County region in Maine. A critical step for this task has been to engage the numerous stakeholders, many of whom are already working collaboratively on related conservation issues. The initial workshops held for each of the sites provided an opportunity for the audience to learn about climate change and adaptation and allowed Manomet staff to benefit from the broad perspective and expertise of a diverse set of stakeholders.
Resources:
Manomet Center for Conservation Sciences Climate Change & Energy Webpage
Moving from Vulnerability to Resilience: Sustaining Ecosystem Services in the Face of Climate Change PDF
 
Maryland DNR - Strategy for reducing Maryland's Vulnerability to Climate Change
In 2009, the University of Maryland and the Department of Natural Resources (DNR) jointly led an effort with stakeholders from governmental, non-profit, and private sectors to develop an adaptation strategy for climate change in Maryland. State agencies are making progress towards implementing the strategies.
DNR issued a policy to direct investments in and management of land, resources, and assets so as to better understand, mitigate and adapt to climate change. As a result of this, the state is protecting additional temperature sensitive streams, evaluating protection of ephemeral habitats, and evaluating new programs to protect climate sensitive species.
Sister agencies are conducting vulnerability analyses and implementing programs to reduce the state's vulnerability to climate change. Agencies are developing climate change indicators, incorporating Climate Change Impact Areas into the state's development plan, protecting water supplies, and enhancing stormwater regulations to buffer the impacts of climate change.
Moving forward, we will formalize implementation plans to develop new policies or programmatic changes and develop measures for tracking resiliency to ensure progress is being made. Our experience at the state level will provide the basis for working with local governments to move forward with increasing their resiliency to climate change by providing technical assistance and case studies of adaptation measures.
The last leg of our work is to ensure sustainability by working with non-governmental organizations and businesses to ensure they have the latest information and understand the science behind climate change and to garner support for policies and laws locally, statewide, and baywide.
Resources:
Phase I: Sea Level Rise and Coastal Storms
Phase II: Building Societal, Economic and Ecological Resilience
Maryland DNR Climate Change Policy
 
National Wildlife Federation
NWF is collaborating with the National Oceanic and Atmospheric Administration (NOAA) and EcoAdapt to promote more climate-smart approaches to coastal restoration. This work, currently centered in the Great Lakes and Chesapeake Bay regions, is designed to help build climate considerations into NOAA habitat restoration grant programs, and assist NOAA grantees better incorporate climate change into the design and implementation of their on-the-ground projects.
As part of this effort, NWF and EcoAdapt recently published Restoring the Great Lakes Coastal Future (2011). The NWF project team is currently providing adaptation advice to five place-based restoration projects around the Great Lakes, ranging from restoration of riparian habitat on a former steel mill site along the Black River in Lorain, Ohio, to enhancing fish spawning and nursery habitat through restoring the Little Rapids on the St. Marys River, Sault Sainte Marie, Mich.
 
National Wildlife Federation's Climate-Smart Communities Program
National Wildlife Federation's new Climate-Smart Communities program is designed to help communities use nature-based approaches to prepare themselves for the impacts of climate change in ways that support people, wildlife, and habitats. It is an "ecosystem-services" approach to protecting people and property that uses nature-based solutions can provide win-win opportunities for people and wildlife. This program also helps defend against mal-adaptive efforts that may protect property at the expense of wildlife.
Resources:
Scanning the Conservation Horizon: A Guide to Climate Change Vulnerability Assessment (2011)
Moving the Conservation Goalposts (2011)
A New Era for Conservation (2009)
 
Natural Resources Defense Council
Resources:
Report – Great Lakes National Parks in Peril
Report – In Hot Water
Report – Hotter and Drier
Report – National Parks in Peril: The Threats of Climate Disruption
Report – Losing Ground: Western National Parks Endangered by Climate Disruption
 
Pacific Northwest Climate Impacts Research Consortium and
Northwest Climate Science Center at Oregon State University
In September 2010 NOAA designated OSU to lead a multi-university partnership establishing a Pacific Northwest Climate Impacts Research Consortium (CIRC). As one of NOAA's new Regional Integrated Sciences and Assessments (RISA) projects, CIRC focuses on providing science, information, and tools for decision makers responsible for landscape and watershed management in a changing climate across a range of sectors. NOAA funding over 5 years is expected to be $3.8M.
DOI established the Northwest Climate Science Center (NW CSC) in 2010 as one of eight federally led regional climate research collaborations. The NW CSC is hosted at OSU with staff also at the University of Washington and University of Idaho and coordinates the expertise of federal and university scientists to address climate change priorities of federal, state, and tribal resource managers. The NW CSC will develop and provide scientific information, tools, and techniques that can be used to anticipate, monitor, and adapt land, water, wildlife and cultural resources to climate change impacts. DOI funding over 5 years is expected to be $3.6M for the universities subject.
The two centers will coordinate science and serve stakeholders across an overlapping area generally including Oregon, Washington, Idaho, and western Montana. The Oregon Climate Change Research Institute (OCCRI) at Oregon State University hosts the two Centers and serves as Oregon's climate knowledge network connecting expert faculty with each other and with the state's businesses, tribes, agencies, non-profits, and citizens.
 
PRBO Conservation Science
PRBO Conservation Science (PRBO) is a non-profit organization founded in 1965 as Point Reyes Bird Observatory. PRBO does bird ecology research, creates management tools, leads field science training programs, and develops and delivers bird science education programs to advance biodiversity conservation in the west on land and at sea.
One of the overwhelming findings of climate change studies is that our ecosystems will experience more variation and more extremes in climate in the coming years. To address this challenge, PRBO is working to develop science-based, climate-smart conservation planning and management tools and methods.
Our work includes using birds to understand how climate change is influencing ecosystems, using projected changes in climate and bird habitat to inform climate change adaptation actions, and providing information to managers in a manner that facilitates informed decision making. PRBO works with government agencies, nonprofits, and academics to reach as wide of an audience as possible. PRBO also hosts the California Avian Data Center (CADC), a regional node of the Avian Knowledge Network that integrates data on birds and ecosystems to improve conservation outcomes today and in the future.
Resources:
PRBO research related to climate change
Science-based, climate-smart conservation planning and management tools and methods developed by PRBO
PRBO's San Francisco Bay Sea-Level Rise Website
Interactive map modeling bird distribution responses to climate change
A climate change vulnerability assessment of California's at-risk birds
 
Oxfam America – Vulnerability and Restoration in the Gulf Coast
There are few places in the United States where a healthy environment is so inextricably linked to the health of communities and the economy as it is in the Gulf Coast region. Tens of thousands of families who rely on its healthy wetlands, marshes, and fisheries find their livelihoods threatened by wetlands loss and coastal communities lie in peril of intensifying hurricanes and rising sea levels. Hurricanes Katrina and Rita exposed this reality to the nation in 2005 and it was underscored by the Deepwater Horizon oil catastrophe in 2010. Despite the income-generating power of the Gulf Coast, its communities are among the poorest in the nation and poverty is a top factor in determining a community's vulnerability to a disaster.
Restoration of coastal resources is critical to not only reducing the vulnerability of communities but also offers new livelihood opportunities for the region's working families. Potential fines and liabilities from the BP oil spill, as well as new attention from the federal and state governments, has created an historic opportunity to develop and fund a national plan to put the Gulf Coast on a path to restoration and resilience. A regional plan for habitat restoration and resilient community building could directly create tens of thousands of jobs at a time when coastal communities are still suffering from the national economic downturn and the aftermath of the BP spill.
Oxfam America partners with vulnerable coastal communities to bring their voices and concerns to regional policy and planning processes around coastal restoration that lead to new livelihood opportunities and increased resiliency.  Oxfam combines our research and advocacy voice with support (funds, leadership development and access) to members of the coastal coalition to achieve our environmental justice goals.
Resources:
For more information, please see: adapt.oxfamamerica.org and Beyond Recovery: Moving the Gulf Coast Toward a Sustainable Future

 
Contributors R - Z
Resource Innovation Group
The Resource Innovation Group's (TRIG's) Adaptation program conducts research and provides technical assistance for communities, regions, and organizations engaged in climate preparedness and adaptation. We collaborate with other practitioners and researchers to develop best practices, tools, and policies where needed.
TRIG is currently working with the Oregon Health Authority, Centers for Disease Control and Prevention, and National Association of County and City Health Officials to build capacity of local health jurisdiction for climate adaptation planning. We are also collaborating with local governments from across the Willamette Valley to develop a regional climate resilience strategy. Other initiatives include resilience capacity building trainings watershed managers, research on the adaptation-mitigation nexus, adaptation communication, and evaluating adaptation effectiveness.
Resources: 
TRIG Climate Preparedness Publications
TRIG Willamette Valley Resilience Compact Webpage
 
River Network
River Network's programs engage over 600 local watershed groups across the country. The Campaign to Sustain Water and Energy"supports those groups addressing the water-related impacts of climate change, the water-energy nexus, and climate adaptation plans.The Campaign includes a Water-Energy Nexus Working Group and the Community Climate Response Peer Learning Network. Additionally, River Network assists communities develop stronger storm water management and green infrastructure.
Resources:
Water Conservation Tracking Tool 
Sierra Club's Resilient Habitats Campaign
Most conservation biologists working in the field agree on key steps to building ecosystem resiliency:
Protect large core areas and connecting migration corridors to allow plants and wildlife to move into more favorable habitats.
Reduce or eliminate non-climate impacts that add and increase the stress on vulnerable species.
Apply ecologically appropriate climate-smart management programs that will build resiliency — all while substantially reducing global warming emissions.
The Sierra Club is making this happen in 10 pilot ecoregions across the country: America's Arctic, California Coast, Greater Grand Canyon, Greater Everglades, Quetico-Superior, Gulf Coast, Adirondacks to Acadia, Greater Yellowstone, North Cascades/Puget Sound/Olympic Peninsula, and Sierra Nevada. These special places are where we have a combination of high risks due to global warming, unique/iconic places and threatened species, a significant capacity to carry out effective campaigns, and solid science to back up our conservation approach—as well as the potential to create models that can be applied to other parts of the country and the world.
Simultaneously, we are working to change federal administrative and state public policies to require government action on resilient habitats and to create incentives for the participation of tribal, state, and private landowners. We are also providing tools for activists and public officials so that they can ultimately promote resilient habitats in every ecosystem nationwide.
Resources:
"Buying Time: A User's Manual for Building Resistance and Resilience to Climate Change in Natural Systems," World Wildlife Fund, August 2003
 
Sky Island Alliance
Sky Island Alliance (SIA) is a grassroots non-profit organization dedicated to the protection and restoration of the rich natural heritage of native species and habitats in the Sky Island region of the southwestern United States and northwestern Mexico.The Region is a biological bridge where the temperate Rocky Mountains and Colorado Plateau meet the subtropics of the Sierra Madre Occidental, the Sonoran and the Chihuahuan Deserts.
SIA is working to improve protection of wildlife and natural systems, to build resilience in natural systems, and to increase the capacity of managers and planners to address climate change impacts in the Sky Island Region. Our project is focused on: translating scientific information to natural resource managers and planners, fostering the incorporation of climate information into decision making; developing fora for exchange of science and climate change adaptation strategies; crafting and implementing on-the-ground adaptation strategies; and building a network of citizens committed to restoration and monitoring activities that contribute to the long-term efficacy of adaptation strategies.
Through the formation of an Arizona Climate Change Network we are connecting natural resource managers with information in a format that is useable to them, and to building their capacity to find, understand and apply new climatic information as it becomes available. In cooperation with a variety of organizations and agencies SIA is leading the development and convening of a series of regional climate change adaptation workshops. Workshop outcomes include a list of ecosystem specific adaptation options for the region, and a plan for implementation of adaptation strategies which we complement with policy-level protection and on-the-ground restoration and monitoring activities.
Resources:
Sky Island Alliance Climate Change Adaptation Project Website
Report: Climate Change Adaptation in the Arid Southwest
 
The Nature Conservancy
TNC Climate Adaptation Program
TNC is uniquely positioned to demonstrate how nature can help protect people and communities from climate impacts. We have the experience in relevant science, tools, and policy, and our field demonstrations are showing that nature-based solutions can be effective.
With our early investments in marine and coastal resilience and adaptation, we are well-recognized as a national and global leader. The Conservancy's tools and frameworks for decision-making such as Climate Wizard are aiding climate change preparation. Our growing experience with nature-based approaches are connecting natural solutions with the security of urban populations, a critical constituency.
Resources:
TNC's Knowledge Base for Climate Change Adaptation
 
TNC Gulf of Mexico Program
The goal of TNC's Gulf of Mexico Program is to increase ecosystem and coastal community resilience by greatly accelerating the pace and scale of restoration of key Gulf ecosystems through strategic partnerships and the leveraging of significant, additional resources from private and public sources.
In response to the oil spill, federal and state governments will determine how billions of dollars of fines, compensations, and other monies will be spent. Their investment decisions will catalyze large-scale habitat restoration that can address the resiliency of coastal communities and ecosystems and build a new restoration economy.
Resources:
TNC Gulf Program Internet Site
TNC Gulf decision support tool
NGO strategy for gulf restoration
TNC catalog of Gulf restoration projects
 
TNC Great Lakes Project
The Nature Conservancy's Great Lakes Project works with partners to restore and maintain the Great Lakes system, with the goal of protecting biodiversity, and sustaining the societal benefits that these systems provide, including drinking water for 40 million people. The Climate Change Adaptation Strategy team works with other TNC staff and partners to ensure that our actions and strategies for attaining this goal are designed, prioritized, implemented, and monitored in "climate smart" ways.
Our approach focuses on providing information to practitioners and decision-makers across the basin in ways that help empower, motivate, and catalyze cooperative actions that will enhance the adaptive capacity of the ecological systems, and people, of the region.
Key activities that have been supported by Kresge to help us achieve efficient and effective implementation of Great Lakes conservation include:
Synthesizing climate change impact and vulnerability information, and integrating it into our work;.
Getting to know the needs of our partners by administering a survey on impacts and adaptation in our region that was completed by almost 500 practitioners.
Sharing what we learn by developing in-depth case studies that describe the logic behind how our projects and processes are being updated.
Connecting people with each other and key resources in "climate clinics"; and (5) engagement in knowledge, tool, and guidance development. 
Resources:
TNC Climate Change in the Great Lakes
Collaboratory for Climate Change Adaptation
 
The San Diego Foundation
The San Diego Foundation (TSDF) is committed to providing critical leadership and philanthropic investment needed to reduce our region's carbon footprint and minimize local risks from climate change. With Kresge's generous support, TSDF has launched a Regional Climate Adaptation Leadershipproject to support climate adaptation policy innovation and implementation through the following three activities:
Technical Assistance to Plan for Sea Level Rise - Building on a planning effort launched in 2010, TSDF will work with ICLEI, the Port of San Diego and five localities around San Diego Bay to implement a sea level rise strategy. TSDF will support(a) ongoing facilitated meetings to prioritize and coordinate strategy implementation, (b) implementation of a public outreach strategy, and (c) additional technical assistance.
Research Dissemination and Public Awareness –To date, TSDF has supported a growing body of local research on climate change impacts to our region's water and energy supplies, ecosystems, coastline, and quality of life. TSDF will make this research more accessible in multiple formats useful for a variety of key audiences including local government officials, community advocates and the general public.
Convening Local Governments and Public Agencies - Local governments have repeatedly expressed the need for a third-party, neutral convener to coordinate efforts around climate planning. With this in mind, TSDF will facilitate regular meetings of executive staff from our region's largest local governments and major public agencies as part of a Regional Collaborative on Climate Change, andimplement a demonstration adaptation project prioritized by this group.
Resources:
Report: Sea Level Rise Adaptation Strategy for San Diego Bay PDF
 
University of Central Florida: Adaptation to Sea-Level Rise in Florida
The University of Central Florida (UCF) is conducting a statewide assessment of the vulnerability of natural systems threatened by sea-level rise and concurrent changes in land use. The project focuses on:
The impacts of sea-level rise on natural systems, habitats that are rich resources for fisheries, wildlife, and water resources.
And the complex interplay of adaptation strategies proposed or likely to be undertaken to protect the built environment (development, transportation, etc.) and the impacts of those interventions on natural systems.
The goal is to develop a more comprehensive and specific understanding of sea-level rise effects and to reduce conflicts between strategies for addressing impacts to natural systems and the built environment. This study will be undertaken at a scale that will enable the application of state-wide policy remedies, but also be specific enough to guide planning and infrastructure or conservation management interventions at the local level.
 
Wildlife Conservation Society
The Wildlife Conservation Society (WCS) is helping to build society's capacity for conserving priority landscapes and species in North America in light of rapidly changing climate by:
Detecting and understanding the consequences of climate change for wildlife, by conducting research on the observed and projected vulnerability of particular species, habitats, and ecosystems, as well as the capacity of those species and systems to cope with climate-driven impacts.
Working with government agencies, First Nations, and private landowners to identify and implement wildlife, land and water conservation strategies that buffer species and ecosystems from the consequences of climate change.
Developing and implementing strategies for protecting connectivity needed to allow wildlife and the resources they rely on to move and persist as climate changes.
Supporting on-the-ground conservation projects that promote wildlife adaptation to climate change through the WCS Climate Adaptation Fund's competitive grants program.
As part of these efforts, WCS is working with partners at several landscapes across North America to test and refine the Adaptation for Conservation Targets (ACT) framework, a structured and participatory approach to adaptation planning.
WCS is also using the ACT framework and other tools to accelerate climate change adaptation planning and action in four WCS priority landscapes – Arctic Alaska, the Yellowstone Rockies, the Adirondack Park, and Northern Ontario boreal forests. By comparing climate change adaptation options across these landscapes, we aim to assess and share lessons learned with the broader conservation community to improve our collective ability to prepare for the inevitable consequences of climate change.

Resources:

WCS Climate Adaptation Fund
Climate Change in the Adirondacks – The Path to Sustainability
Climate change workshop report from the Adirondacks
Climate change workshop report from Arctic Alaska
Climate change workshop report from the Great Plains
 
World Wildlife Fund Northern Great Plains Program
The Northern Great Plains is one of World Wildlife Fund's top 15 global priorities. Spanning five U.S. states and two Canadian provinces, it is one of the best places to conserve temperate grasslands across the globe.
WWF's climate adaptation program in the Northern Great Plains is focused on developing climate adaptation priorities for the region, conducting research to inform on-the-ground adaptation work and bringing adaptation practices to the ground to enhance conservation in the region and ensure that focal species and systems can thrive while living alongside human communities.
Focal systems and species for climate adaptation work in the region, as identified in our recent climate change assessment, include sagebrush-associated species, such as greater sage-grouse, and aquatic and riparian habitats.
Some of our recent projects include: spatially explicit management recommendations for greater sage-grouse in Montana and Wyoming under climate change scenarios; scenario-planning workshops, using the Adaptation for Conservation Targets methodology, for conservation planning purposes with Parks Canada; and a forage productivity modeling project that involves government agencies and private landowners to aid in decision-making.
Our future goals include focusing on climate adaptation projects that bring together human livelihood opportunities and human and wildlife health issues. We believe that focusing on these three areas – ­­livelihoods, health, habitat – will allow us to develop strategies that are beneficial across the human-wildlife spectrum.
Resources: