Arts & Culture grantees connect, reflect, get inspired at Philly convening
There has never been a more important time to "double down" on engaging residents in strategies that infuse arts, culture and design into communities across the country, speakers told a gathering of The Kresge Foundation grantees last week.
More than 100 people representing 73 organizations funded through Kresge's Arts & Culture Program met in Philadelphia Nov. 9-10 at the foundation's 2016 grantee convening – "Connect, Reflect, and Inspire." With the results of the contentious 2016 election only hours old, grantees discussed how essential it is to redouble efforts to connect with community.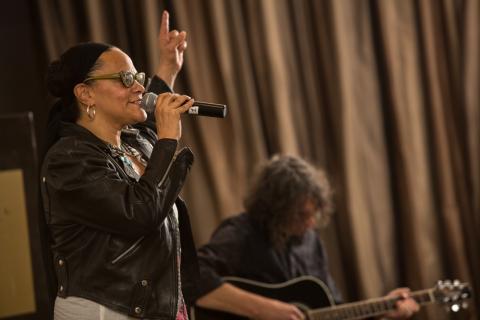 "At a time when so many people feel they have lost …. their voice in the (governmental) process, you are helping allow people to use that voice in authentic ways," Ari Simon, Kresge vice president and chief program and strategy officer told the group. "The work you're doing represents points of light…it is even more essential."
Kresge funding to the organizations supports Creative Placemaking – a comprehensive community development approach intentionally embedding arts, culture and design into community stabilization work. Kresge's unique niche in the national conversation of Creative Placemaking is in influencing the systems and practices that expand opportunity for low-income people in American cities.
Networking and learning were themes throughout the convening as participants shared lessons from their work to integrate arts, culture and design into community revitalization.
During the two days participants:
Learned about and held sessions at The Enterprise Center, a Kresge and Surdna Foundation grantee investing in minority entrepreneurs.
Visited and learned of the work of Local Initiatives Support Corporation (LISC) national and Philadelphia office, and the People's Emergency Center.
Were inspired by speakers including Jane Golden, founder of Philadelphia Mural Arts and Jeremy Nowak, an urban development expert.
Were treated to a performance by spoken word artist Ursula Rucker and guitarist Tim Motzer.
Convened in breakout sessions and informally to discuss topics including, how to mark progress, how to inspire action, and how to recognize when redirection of programs and initiatives is necessary.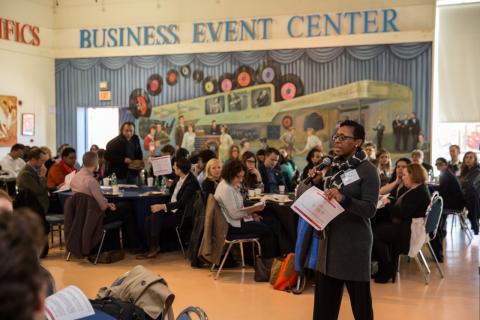 "It was inspiring to hear the many ways that these organizations are helping integrate community-driven ideas and aspirations into their work," said Regina Smith, managing director of the Kresge Arts & Culture Program. "We were reminded again how valuable these people-centered approaches are to the communities where we are investing."