Healthy environments
We seek to improve the health and well-being of vulnerable populations by making the places they live, learn, work and play safe and conducive to overall good health.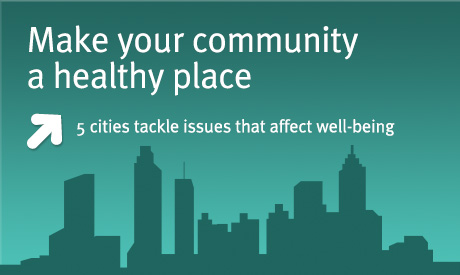 Focus Area Overview
Low-income communities often are located in areas with higher exposure to environmental hazards due to the condition and proximity of their homes, schools and workplaces to polluting industries and aging urban centers. These multiple exposures range from air pollution and chemical contaminants to the toxins associated with substandard housing and the additives in unhealthy foods.
We support efforts to improve the homes, surroundings and quality of life for children and their families living in low-income communities through three initiatives:
In our safe and healthy housing work, we take a comprehensive approach and support efforts to abate hazards, accelerate policy and systems changes, provide community education and build community engagement.
In our transportation and the built environment initiative, we partner with organizations addressing the health effects of freight transport, especially on vulnerable communities and workers. We also support efforts to re-examine aspects of the built environment that create barriers to physical activity and affect air and water quality and public safety.
In our healthy food initiative, we invest in efforts to improve food-system policies and practices, especially those that provide better access to fruits, vegetables and other healthful foods and that reduce the emphasis on products without nutritional benefits.
Healthy homes
Much of this funding is awarded through the Advancing Safe and Healthy Homes Initiative, an effort now in its fourth year. However, we also provide open funding for innovative efforts to address the impacts of housing on health.
We are interested in ideas that incorporate health in housing: for example, walkable communities. We are also interested in healthy housing designed to serve systemically disadvantaged groups, such as farm workers. This does not include direct support for supportive housing.
The Advancing Safe and Healthy Homes Initiative grew out of an initiative to reduce childhood lead poisoning. Now a comprehensive effort, it addresses home hazards such as asthma-triggering allergens, fire hazards, substandard insulation and weatherization, repair problems like broken steps and railings and neighborhood nuisances like abandoned buildings that invite crime.
The initiative also aims to build the capacity of federal, state and local government agencies to reduce the incidence of preventable illnesses, injuries and hospitalizations caused by home environments; support the development of best practices; and advance philanthropic investment in the field of healthy homes.
We awarded totaling $3 million to six communities in 2012. That Advancing Safe and Healthy Homes Initiative cohort includes Alameda, Calif.; Detroit; Greensboro, N.C.; Los Angeles; Newark, N.J.; and Omaha, Neb.
We are also the primary funder of the national program office, which leads the initiative.
Transportation and the built environment
The way we have designed and constructed our physical environments, landscapes and streetscapes greatly influence our health. These arrangements shape the level of our physical activity and affect the air we breathe and the water we drink. They can have a profound impact on our physical safety. We also support activities that address these issues.
In our clean freight transport initiative, we partner with organizations addressing the health effects of freight transport and goods movement, especially on vulnerable communities and workers. We support the work of a national network focused on air quality around major ports and freight junctions.
Healthy food
A nutritious and healthy diet is fundamental for good health. But for many people and communities, especially low-income communities of color, there is often limited access to fresh, healthy food.
This is just one aspect of a failed food system.
The way we grow, process, market and sell food is harmful to workers, communities, and the environment. Our food system contributes to the obesity epidemic, endangering children and adding pressure and cost to an already-stressed health care system.
Our goal is to improve food-system policies and practices, especially those that disproportionately affect low-income communities. Much of our grantmaking focuses on supporting the growth of local or regional food-systems and supply chains.
We support activities to reform food policies as well as work to introduce food system innovations that benefit vulnerable people.
Eligibility
Who should apply?
U.S. 501(c)(3) organizations with audited financial statements that are not classified as private foundations. Audits must be independently prepared following Generally Accepted Accounting Principles or Government Auditing Standards. Financial statements prepared on a cash, modified cash, compilation or review basis do not qualify.
Government entities.
Who should not apply?
Individuals.
Organizations that discriminate on the basis of race, color, religion, gender, national origin, citizenship status, age, disability, sexual orientation or veteran status.
Organizations that require membership in certain religions or advance a particular religious faith. (Faith-based organizations may be eligible if they welcome and serve all members of the community regardless of religious belief.)
Programs operated to benefit for-profit organizations.
We rarely fund:
Projects that are primarily focused on direct health or social services
Health education, promotion or counseling programs
Construction or renovation of facilities, including the acquisition of medical equipment, are ineligible for funding.
Application Process
(PLEASE NOTE: Because our budget is largely committed, we expect to confine grantmaking for the remainder of 2014 to support for organizations currently invited to apply. We do not anticipate awarding grants to other applicants until 2015. Grantseekers will still be able to submit requests for support, but funding decisions will be delayed until early next year.)
We have a two-step application process that begins with an inquiry, submitted via an online application system.
Part 1, the preliminary application, contains a data-entry component and several attachments, including a narrative.
If the activity you describe fits one or more of our strategic priorities and our budget, we then request additional information. This will constitute Part 2 of the application process.
We accept and review inquiries on an ongoing basis.
Transportation and the built environment and healthy food applicants awarded multiyear grants should be prepared to secure matching support after the first year. That match may take the form of additional funding or in-kind services or other resources. The match should be equivalent to half the Kresge contribution for the second and, if applicable, third year of the grant.