News
2010 and 2011 annual report discusses how Kresge works and highlights activity in Detroit
Available online, report also details nationwide grantmaking totaling some $328 million.
---
March 01, 2012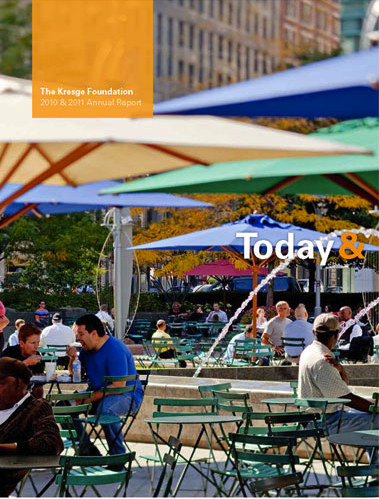 The Kresge Foundation's combined 2010 and 2011 annual report is now available online, along with a related video.
An account of the foundation's activities over those two years, the report highlights Kresge's practice of strategic philanthropy – a four-pronged approach that guides the foundation's grantmaking.
"This report gives us an opportunity to talk about how we're working as well as where our dollars are flowing," says Kresge President Rip Rapson. The discussion of strategic philanthropy focuses on Kresge's activity in Detroit.
All of Kresge's programs – arts and culture, community development, education, the environment, health, and human services – are guided by this approach in grantmaking and investing that spans the United States.
Viewing strategic philanthropy through the lens of the Detroit Program, the foundation's only exclusively placed-based work, sharpens the focus. It also provides an opportunity to shine a light on the Detroit metropolitan area, Kresge's hometown.
While many serious challenges remain, people and jobs are now moving into the city and there's a real sense of what's possible, says Rapson: witness the fact that almost 650 mid-career professionals sought the chance to become one of 29 Detroit Revitalization Fellows and contribute to the city's turnaround.
Elaine Rosen, chairwoman of Kresge's Board of Trustees, and Rapson both address the foundation's commitment to Detroit in messages in the annual report. The video provides an overview.
The annual report details the foundation's grantmaking in 2010 and 2011, covering 481 awards totaling $158 million made in 2010, and 346 awards totaling $170 million made in 2011.Graphics depict the national scope of that grantmaking. The foundation's finance and investment officers also report on the value of the endowment.
The print version of the report will reach several thousand philanthropic, public- and private-sector, and academic leaders, as well as other Kresge partners. Like other recent reports, a copy will also be archived at kresge.org