---
Environment Program grantee part of global web event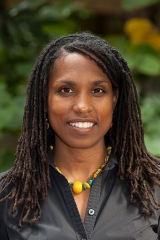 The Climate Reality Project's new global campaign on the climate crisis kicks off with 24 Hours of Reality, a worldwide, live-streamed event Wednesday and Thursday.
An antidote to those who continue to question scientific consensus about climate change, the new multimedia presentation features scientists, business leaders and others from every time zone. They talk about the connectionsbetween recent extreme weather events and the manmade pollution that's changing our climate.
We'll be watching for Maxine Burkett, director of the University of Hawaii Center for Island Climate Adaptation and Policy.
An advocate for island resiliency in the face of a changing climate, Burkett's work highlights the disparate impact of climate change on vulnerable communities. (Our Environment Programsupports Center for Island Climate Adaptation and Policy work.)
Continued outreach and education are important. If you're interested in the project, you can follow it in the Twitter-verse @ClimateReality. The hashtag for the event is #reality.