Annual Report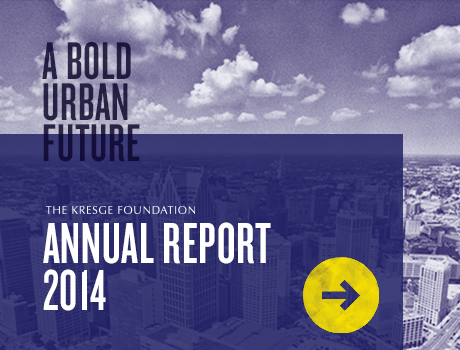 2014 Kresge Annual Report
This annual report focuses on the core beliefs that guided The Kresge Foundation's work in the years leading up to Detroit's municipal bankruptcy, and that now transcend our work there and shape our efforts to improve the bedrock social, cultural and environmental conditions in America's cities. This visionary, strategic style of philanthropy – unafraid to ask hard questions and fearless in the face of great challenge ­– is working to produce a bold urban future.
View interactive annual report online
Download annual report PDF
Table of Contents
Click to view individual PDFs of report.
Letters
Letter From the Chairwoman
Letter From the President
Six Core Beliefs
A Treatise on the Future of Philanthropy
Reports
Financial Report
Social Investment Practice
Programs and Grants
Arts & Culture
Detroit
Education
Environment
Health
Human Services
President's Discretion
Special Initiatives
People
Board of Trustees, Executive Office, Staff
Credits
To request a copy of the annual report, please email the Communications Office. Select "Communications Department" in the drop-down menu and add "printed annual report" and the year of the publication you wish to receive in the message field. Be sure to include your postal address where the form requests it.
View Annual Report Archive.