Annual Report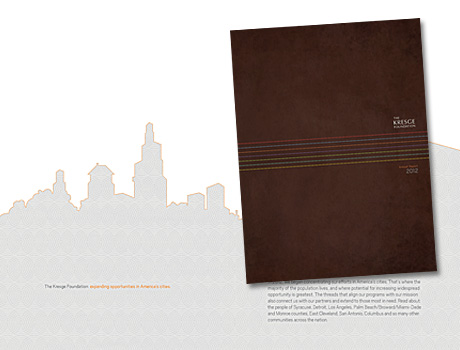 2012 Kresge Annual Report
Imagine a world where opportunity is abundant, extending to all people regardless of their ZIP code. There's access to health care and higher education, fresh air, fresh food and vital neighborhoods. It's safe to dream, and realistic to expect membership in the economic mainstream.
In 2012, we began concentrating our efforts in America's cities. That's where the majority of the population lives, and where potential for increasing widespread opportunity is greatest. The threads that align our programs with our mission also connect us with our partners and extend to those most in need. Read about the people of Syracuse, Detroit, Los Angeles, Palm Beach/Broward/Miami-Dade and Monroe counties, East Cleveland, San Antonio, Columbus and so many other communities across the nation.
Table of Contents
Click to view individual PDFs of report.

Introduction
Letters
Letter From the Chairwoman
Letter From the President
Programs
Arts & Culture
Detroit/Community Development
Education
Health
Human Services
Reports
Social Investment Practice
Financial Report
National Perspective: Grants by Location
Overall Grant Activity
Grant Lists
Arts & Culture
Community Development
Detroit
Education
Environment
Health
Human Services
Nonprofit Sector Support
President's Discretion
To request a copy of the annual report, please email the Communications Office. Select "Communications Department" in the drop-down menu and add "printed annual report" and the year of the publication you wish to receive in the message field. Be sure to include your postal address where the form requests it.
View Annual Report Archive.